If you are a new convert to Thesis one of your first questions is probably: What the heck are hooks?
I'm new to the thesis theme, I saw the video on DIYThemes, checked out a few of the sites and liked the customizability of the theme.
Face it, if you want to express yourself and make an impression to your readers fast, the appearance of your blog is important. I'm not saying its the most important thing. There are some really great blogs that get readers because of the content and ultimately this is what will work on your blog.
Silk purse out of a sows ear leaps to mind. I am a big advocate of the quality content idea, sure it may be a little extra work (but not that much if you try free writing and use tools like Market Samurai for your research) as opposed to cutting, spinning and pasting an article out of Ezine or Goarticles but it pays off.
So over the next few weeks or days I am going to do a little playing around with the heaps of options in Thesis theme. One of the first things though is to get my head around thesis hooks since these understanding these is pretty important if you want to push your thesis theme.
Hooks for Dummies
I wanted to know what the heck they were and I found. Sugarrae's Hooks for Dummies, this is a really good introduction to hooks.  According to her (emphasis added by me):
"Hooks define where stuff appears and functions define what stuff appears"
She goes on to provides some useful examples. I recommend it if you have time, it actually doesn't take that long (I read it on a flight to Melbourne and still had time to watch a podcast on Social Media) and she explains the function of each part of the hook code.
The description of hooks that worked for me though was this one, which described hooks as another name for placeholders, and this is borne out when you check out
another cool resource I found was Roberto Gerola screen shots showing where the hooks are. You can find these on the Thesis Hooks: A Visual Reference
A Useful Analogy: Paintings and Picture Hooks
So now when I think about hooks I think of clothing hooks or the hooks you hang on walls to put pictures on. Then carrying the analogy further the functions or coding you use are the painting you hang on the hooks.
The analogy gets stretched a bit (but not much) when you realise that the sort of paintings you can hang on walls of the house that Thesis built can be interactive, active and mobile – not just the static images you hang on your real walls (unless of course you are Harry Potter fan where even the photos move as well as the paintings).
So that analogy works for me. Next time I'll tell you about some of the things I found when I started ferreting around the drawers (the options) in the house that Thesis built (and we can see how far I can carry this analogy).
Thesis OpenHook – Salvation for the Hook Challenged (and I don't mean Peter Pan)
Fortunately if you don't want to spend time knee-deep in hook code, Rick Bergman has designed a great little WordPress plug-in: Thesis OpenHook. A short video from  Greg Rickarby helps explain how to use this plugin: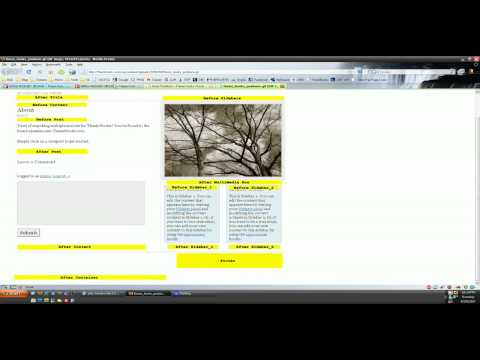 when you want to get down to the nitty gritty, and DIYthemes offer all sorts of starter packs to registered users (that is those who have bought the theme).
So this is a short intro with hopefully a few useful places to find out more and an analogy that might help you (it helps me).
I'll keep you posted on my progress.